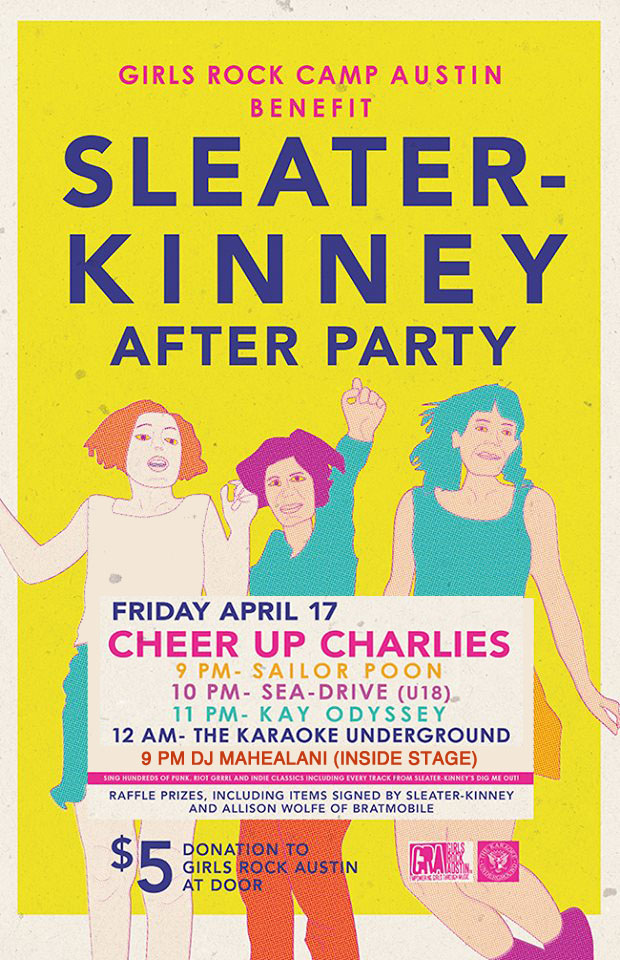 Details took a little while to solidify for a couple of these, but proud to announce some fantastic benefit shows in Austin next weekend, plus a reminder that KU will be in California this weekend!
SHOWS
Saturday, 4/11 @ PRF West Coast BBQ, Elbo Room, San Francisco, CA
https://www.facebook.com/events/1575767102659296/
45-minute pre-party set at 1p, bands start at 1:45
Sunday, 4/12, San Francisco, CA @ The Rickshaw Stop
All night long with American Tripps ping-pong!
http://www.rickshawstop.com/event/786329-karaoke-underground-san-francisco/
https://www.facebook.com/events/876958589032873/
Thursday, 4/16 @ Sweetwater, 9p, FREE
This is my (Kaleb's) birthday, and it's also your best chance to sing more than once in Austin this month!
https://www.facebook.com/events/1481108842168667
Friday, 4/17 @ Cheer Up Charlies, 9p, $5 donation
Sleater-Kinney afterparty & benefit for Girls Rock Austin!
https://www.facebook.com/events/770561706374211/
This is going to be HUGE, with raffle prizes including items signed by Sleater-Kinney and Alison Wolfe of Bratmobile, plus this great lineup of acts with KU!
Inside
9pm-12am: DJ Mahealani
12am-2am: The Karaoke Underground (will start off with every song on Dig Me Out in order!)
Outside
9pm: Sailor Poon
10pm: SEA-DRIVE
11pm: Kay Odyssey
Saturday, 4/18 @ The Highball, Austin, Free entry, many opportunities to donate
Benefit for Chepo Peña of Karaoke Apocalypse, Help Chepo Fuck Cancer
Our good friend Chepo Peña of Karaoke Apocalypse is undergoing treatment for Stage IV Non-Hodgkins Lymphoma. On Saturday, April 18, Karaoke Underground will open up a special Karaoke Apocalypse fundraiser at The Highball to help cover Chepo's medical costs. Hope you can make it out and have more fun to help a great guy.
http://thehighball.com/events/detail/27795/
http://www.gofundme.com/helpchepo
https://www.facebook.com/events/357817787746765/
Saturday, 5/2 @ Nomad, 10p, FREE
https://www.facebook.com/events/644529815639332
NEW SONGS!
The Blind Shake – I'm Not An Animal
Bright Eyes – Lover I Don't Have To Love
FIDLAR – No Waves
Scratch Acid – This Is Bliss
Sleater-Kinney – Dance Song '97
Marnie Stern – Year Of The Glad
The Weakerthans – Psalm For The Elks Lodge Last Call